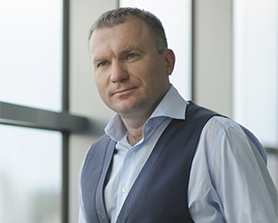 Igor Mazepa
General Director of Concorde Capital, a member of the Supervisory Board of the State Export-Import Bank of Ukraine, Chairman of the Exchange Board of JSC "Ukrainian Exchange", chairman of the Business Council "The price of the state"
He was born July 2, 1976 in Kiev.
He received a degree in economics and a law degree from Kyiv National Economic University, "International Economics" and "right».
In 1997 he began his career as an investment banker in Russian-American investment company (IC) Prospect Investments. In 2000-2002 he served as Managing Director of IR Foyil Securities New Europe, then – Director of IFC in the IR.                                 
In 2004, he founded and headed the IR Concorde Capital, is its CEO. Over the years, the company among the top three investment banks in Ukraine (according to research the largest international news agency Thomson Reuters).                                 
In 2008 he was elected Chairman of the Exchange Board of JSC "Ukrainian Exchange" and occupies the post today.                                 
In 2014, he was appointed member of the Supervisory Board of the largest state bank "Ukreximbank". 
In 2007, the best manager in the stock market of Ukraine, according to the rating of publishing house «Economy».                                 
In 2007, the leader in the nomination "Personality of the Ukrainian stock market" financial rating of the newspaper "Business».
From 2008 to the present day-Chairman of the Exchange Board of Open Joint Stock Company "Ukrainian Exchange».
In 2010, Igor Mazepa took part in high-profile project, the channel ICTV «Ukrainian Dream", which, along with other well-known businessmen made an investor perspective business ideas of ordinary Ukrainians.
From 2014 to date – Member of the Supervisory Board of the State Export-Import Bank.
From April 2015 to 2017 Chairman of the Board of the Business Council "Price States".