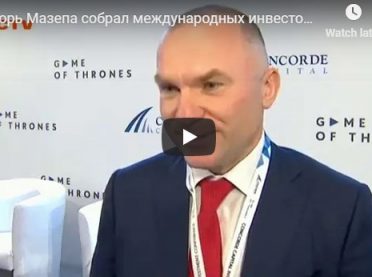 Igor Mazepa gathered more than 300 leaders in politics and business, as well as foreign investors in Kyiv to discuss Ukraine's future development course
Igor Mazepa and Concorde Capital investment company held on May 19, 2019 the International Investment Conference in Kyiv, Ukraine, to discuss future economic course of Ukraine
The Conference consisted of three discussion panels: Officials, Business and International Investors, whose participants discussed Ukraine's new development course, and examined issues of economic development, improving the investment climate and attracting foreign investors.
What's key to the theme of our conference – GAME OF THRONES: FINAL SEASON?  – is its question mark. It's a challenge to stop playing games and begin to work together. To work for a single goal – improving the overall welfare. We expected as a result of the discussions to get greater understanding of what awaits Ukraine in the near future. To understand who is ready to make it better and how. Just whether we were able to do that is for our guests to decide," commented Igor Mazepa, the CEO of Concorde Capital.
Speakers of the Conference: Oksana Syroyid, Vice Speaker of the Parliament of Ukraine; Oleksandr Danylyuk, Advisor to the President Elect of Ukraine; Anrdiy Pyshnyy, Chairman of the Board, Oschadbank; Andriy Kobolev, CEO, Naftogaz of Ukraine; Yevhen Kravtsov, Chairman of the Board, Ukrzaliznytsia; Goesta Ljungman, IMF Resident Representative in Ukraine; Dimitar Bogov, Regional Lead Economist, EBRD; Jason Pellmar, Regional Manager of Ukraine, Belarus and Moldova, IFC; Andrei Rodzianko, Managing Director, Ice Canyon; Markus Schneider, Senior Economist, AllianceBernstein; John Patton, Managing Director, Argentem Creek Partners. As well as Ukrainian businessman Serhiy Tihipko, Kostyantin Zhevago, Andriy Verevskyi, Yuriy Kosyuk and Oleg Bakhmatyuk.
You may find video from the Conference here
https://www.youtube.com/channel/UCqkIbWCqsBvJ5AHQ4Mo3Fsg/videos