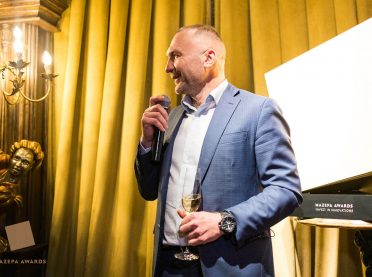 The Mazepa Awards have launched a vote for the award for technology investors
The Mazepa Awards has announced the lists of contenders for prizes and opened voting
The Mazepa Awards has published long lists of contenders for the victory and opened the voting.
In 2022, the Mazepa Awards will be held for the first time. Its organizers intend to celebrate and reward technology companies and people who invest in Ukraine not only their finances but also a part of their lives.
Voting is open on the site for the contenders in seven categories:
Technology Company of the Year
Startup of the Year
Investor of the Year
Exit of the Year
Breakthrough of the Year
Innovator in Traditional Industry, and
Lost Opportunity of the Year.
There are three other categories for nominations; the organizers will announce later how the voting for those candidates will take place.
The criteria for the first stage of selection are described on the website of the Award. For example, Startup of the Year nominees must be engaged in the production of high-tech products, raise at least $3 million in 2021, and be at the Seed stage or earlier. Among the contenders are Vymex, Awesomic, Let's Enhance, and others. Investors of the year had to conclude 3 or more investment agreements in 2021 worth $1 million. Nominees include TA Ventures, USF, ICU, Flyer One Ventures, and Digital Future.
To select the nominees, the organizers of the Mazepa Awards gathered information from open sources, interviewed industry analysts and representatives of the technology industry, as well as relied on the expertise of Concorde Capital.
In addition to the seven nominations mentioned, the organizers will soon announce the start of voting for Business Influencer as well as ESG Champion. In the latter category, the company will be chosen that best implements social, environmental and corporate strategy and helps solve society's problems.
The Grand Prix will be won by the one who is the best of the best – one of the winners of the previous nine nominations. It will be determined by the guests of the Mazepa Awards ceremony, which will take place on April 15. Among the guests are people with relevant expertise: investment market participants, the business community, experts, government officials and journalists.
Voting lasts until February 28 inclusive. Based on the results, shortlists will be formed (three candidates in each of the nominations). Then they will be evaluated by a professional jury.
"Vote for breakthrough ideas and people who invest in the future of Ukraine," said Igor Mazepa, founder of the award and CEO of Concorde Capital.
These long lists follow on from the Mazepa Awards presentation party that took place on November 25 in Kyiv. The event brought together prominent Ukrainian developers, investors and businessmen.